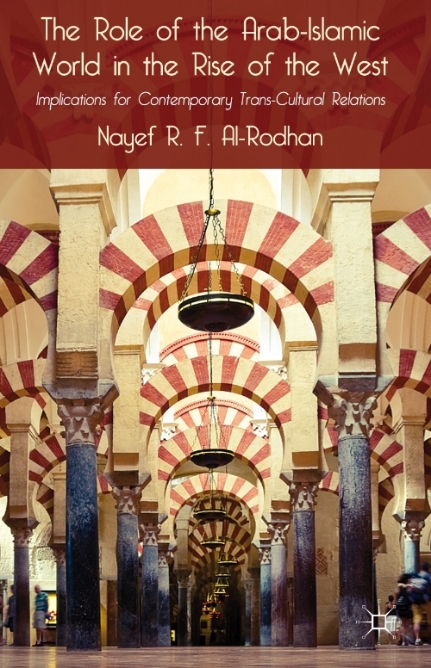 THE ROLE OF THE ARAB-ISLAMIC WORLD IN THE RISE OF THE WEST: Implications for Contemporary Trans-Cultural Relations
This book takes a fascinating look at the role of the Arab-Islamic world in the rise of the West. It examines the cultural transmission of ideas and institutions in a number of key areas, including science, philosophy, humanism, law, finance, commerce, as well as the Arab-Islamic world's overall impact on the Renaissance, the Reformation and the Enlightenment.

Through this survey of cultural exchange and borrowing, the book challenges received Eurocentric narratives of the rise of the West. It also offers a timely and important discussion of the implications of this shared history for contemporary trans-cultural relations.
META-GEOPOLITICS OF OUTER SPACE: An Analysis of Space Power, Security and Governance
Meta-Geopolitics of Outer Space: An Analysis of Space Power, Security and Governance takes a novel look at the geopolitics of outer space through the prism of an innovative multidimensional Meta-geopolitics framework.

One of the most distinctive features of Meta-geopolitics is its all-encompassing analysis of space power, security and geopolitical actors. In comparison with traditional geopolitical approaches, deeply grounded in geography, demography and economics, the Meta-geopolitics framework includes space and broadens the definition of space power to include additional state capacities like health, social, and domestic politics and environmental dimensions in its key components.

This framework also enables a more comprehensive assessment of the strategic orientations of major state and non-state space powers and serves as a basis for the development of a new space governance model.
THE POLITICS OF EMERGING STRATEGIC TECHNOLOGIES: Implications for Geopolitics, Human Enhancement and Human Destiny
Emerging technologies hold great promise but also pose major challenges to global politics, national and international security, human dignity and human destiny. This book examines the latest innovations, key trends and geopolitical and human implications of emerging strategic technologies such as Biotechnology, Nanotechnology and Artificial Intelligence.
The potential use and misuse of these technologies in human enhancement (physical and cognitive) is considered to be one of the major challenges of our time. Nayef Al-Rodhan argues that human enhancement and the future evolution into transhumans is inevitable. To prepare for these potential existential threats, the global community is urged to establish strict moral and legal guidelines that balance the need for innovation with the guarantee of dignity for all.
SUSTAINABLE HISTORY AND THE DIGNITY OF MAN: A Philosophy of History and Civilisational Triumph
SUSTAINABLE HISTORY AND THE DIGNITY OF MAN is a new philosophy of history. This volume outlines how sustainable history is propelled by good governance, which balances the tension between the attributes of human nature – emotionality, amorality and egoisms – and human dignity needs, such as reason, security, human rights, accountability, transparency, justice, opportunity, innovation and inclusiveness.

The author proposes minimum criteria for good governance that are sensitive to local cultures and histories but meet certain common global values to ensure maximum and sustainable moral and political cooperation. Using an ocean model of a single collective human civilisation, the author argues that we should think in terms of a common human story that is comprised of multiple geo-cultural domains and sub-cultures with a history of mutual borrowing and synergies.

The author argues that, today, all geo-cultural domains must succeed if humanity as a whole is to triumph.
CRITICAL TURNING POINTS IN THE MIDDLE EAST: 1915 - 2015
This book takes a refreshing look at the modern Middle East through the prisms of six cascading negative critical turning points. It identifies the seeds of a potential seventh generated by poor governance paradigms and exacerbated by geopolitical competition for the region's natural resources.

The authors argue that this problem can only be effectively addressed through the development of endogenous good governance paradigms that are culturally appropriate, affordable and acceptable to the people of the Middle East, while meeting certain minimal criteria that ensure global moral and political cooperation.

They conclude by proposing a set of recommendations designed to promote stability and security in the region and to enable its true potential as a vibrant, tolerant and innovative region to be realized.
NEO-STATECRAFT AND META-GEOPOLITICS: Reconciliation of Power, Interests and Justice in the 21st Century
This book proposes an innovative and comprehensive framework for conducting statecraft in the 21st century. Called neo-statecraft, this framework is based on the reconciliation of power, interests and justice. The author proposes four substrates of neo-statecraft:

1) a new structure he calls meta-geopolitics, which includes seven inter-related dimensions of state power and identifies a Geostrategic Tripwire Pivotal Corridor (TPC);
2) a sustainable national security paradigm that stresses the centrality of justice, symbiotic realism and transcultural synergy;
3) a new concept called just power, which states that power must be smart as well as just, and that global justice is above all a national interest of all states; and
4) a new concept calledreconciliation statecraft of the eight global interests.
"EMOTIONAL AMORAL EGOISM": A Neurophilosophical Theory of Human Nature and its Universal Security Implications
The enduring assumption that human behaviour is governed by innate morality and reason is at odds with the persistence of human deprivation, injustice, brutality, inequality and conflict. This book offers a fresh look at human nature and universal security by proposing a new general theory of human nature, "emotional amoral egoism", and a specific theory of human motivation that draws on a wide range of philosophical, psychological and evolutionary approaches to human nature as well as neuroscientific research.

It argues that human behaviour is governed primarily by emotional self-interest and that the human mind is a predisposed tabula rasa. The author argues that most human beings are innately neither moral nor immoral but rather amoral. Circumstances will determine the survival value of humankind's moral compass. This insight has profound implications for the re-ordering of governance mechanisms at all levels with a strong emphasis on the role of society and the global system.
Potential Global Strategic Catastrophes: Balancing Transnational Responsibilities and Burden-sharing with Sovereignty and Human Dignity
This book is the result of a Symposium on Potential Global Strategic Catastrophes, which took place in Geneva, Switzerland in 2008. The catastrophes chosen do not include remote and less immediate events. Only those with the potential to produce multiple cascading strategic dilemmas for states and the international system were selected. These dilemmas include balancing the sovereign rights of states with human rights, transnational responsibilities and burden-sharing under occasional geopolitical uncertainties.
The book deals with the theoretical foundations of coping with catastrophes and the relevant inter-state and organisational paradigms. Other sections address specific catastrophes and their potential consequences: pandemics, water crises, global warming, nanosecurity, nuclear catastrophes, financial meltdown, cyber crises, demographic imbalances and forced migrations, state failure and war, massive conventional terrorist attacks and threats to energy supply.
Symbiotic Realism: A Theory of International Relations in An Instant and An Interdependent World
Symbiotic Realism is a theory of relations in a globally-anarchic world of instant connectivity and interdependence. It aims to provide a comprehensive framework for understanding the character of relations generated by four interlocking facets of the global system: the neurobiological substrates of human nature; global anarchy; instant connectivity; and interdependence. It provides a way of understanding how a myriad of actors, including states, transnational corporations, women, the biosphere, and civilizations, help to shape and are shaped by the global system. It also contains a clear normative commitment to moving beyond the present limits of the structure and political organization of the global system towards a more just and peaceful global order.
The Three Pillars of Sustainable National Security in a Transnational World
In today's transnational world, a sustainable national security policy cannot be achieved through national capabilities alone. Sustainable national security instead rests on three pillars: 1) a multi-sum security principle based on justice at all levels, multilateralism and multidimensionality (including human, environmental, national, transnational and transcultural/transcivilizational security); 2) symbiotic realism in international relations, whereby mutual cooperation among states results in non-conflictual absolute gains; and 3) transcivilizational synergy which results from mutual respect, multiculturalism, cosmopolitanism and cross-fertilization, and will lead to global justice, security and prosperity. This is essential reading for anyone interested in an innovative approach to the complex yet central subject of sustainable national security.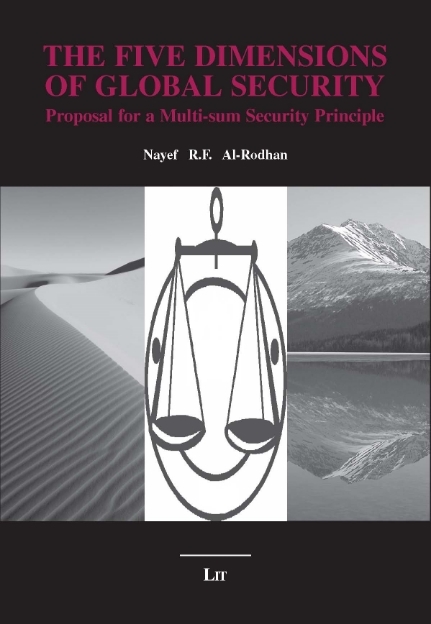 The Five Dimensions of Global Security: Proposal for a Multi-sum Security Principle
This book sets out a new and innovative security principle that is highly pertinent to our times: THE MULTI-SUM SECURITY PRINCIPLE. This principle aims not only to promote cooperative interaction between states, but also peaceful coexistence between cultural groups and civilizations. It combines a proposed new classification of global security that comprises five dimensions of security - human, environmental, national, transnational, and transcultural security - and the idea that justice is a prerequisite for security. Specifically, the multi-sum security principle states that: "In a globalized world, security can no longer be thought of as a zero-sum game involving states alone.
Global security, instead, has five dimensions that include human, environmental, national, transnational, and transcultural security, and, therefore, global security and the security of any state or culture cannot be achieved without good governance at all levels that guarantees security through justice for all individuals, states, and cultures."
The Role of Education in Global Security
Sustainable global security can only be achieved when education is made a priority by states and their institutions. When properly realized, education can be a global asset to fight poverty, inequality, insecurity, and disease. This book offers an innovative new philosophy in which cultural, religious, and ideological diversity in education throughout the world is encouraged and respected. The author advocates that whenever "the other" is discussed, maximum sensitivity, respect, and tolerance must be exercised by all to prevent any possible exclusion or alienation.
The author also argues that there are all kinds of moral truths that see the world from different perspectives and none of them have to necessarily be more right than the other. This book provides an alternative approach to education and outlines the ingredients that any educational system must include in order to ensure a well-educated, tolerant, and peaceful world.
Multilateralism and Transnational Security: A Synthesis of Win-Win Solutions
In the globalised world of today, states face increasingly complex and transnational threats, which include, among other things, terrorism, international migration, weapons proliferation, poverty and human rights violations. This book maintains that the most effective responses to such threats are multilateral ones – an argument that is supported by an exploration of the various multilateral organisations and instruments of security.
The theoretical foundations for this book are set out in The Five Dimensions of Global Security: Proposal for a Multi-sum Security Principle (2007), and SYMBIOTIC REALISM: A Theory of International Relations in an Instant and an Interdependent World (2007). The former proposes five dimensions of global security (human, environmental, national, transnational and transcultural) that depend on good governance and justice.
Policy Briefs on the Transcultural Aspects of Security and Stability
By assessing various aspects of globalization through an analysis of issues currently facing states, decision makers, and individuals within communities, this book provides an essential tool for exploring the future implications of policies and decision-making processes.
Topics such as ethics and civil liberties, information technology, the role of the United Nations, migration, and regional security are analyzed by a number of experts in the field, and each brief concludes with sound and concrete recommendations for action at the state level.
Each topic is also covered by an editorial that looks at the relationship between challenges and policy recommendations in a new way. The diagrammatic representation of the editorials allows for a comprehensive and effective analysis of the relationship between state policy dilemmas and reactions.
Policy Briefs on the Transnational Aspects of Security and Stability [Paperback]
This book looks specifically at a number of topics that deal with the changing nature of the state in the era of globalization, and the impact of this transformation on global security and stability. Each topic is also represented by a diagram assessing and illustrating the linkages between the challenges currently facing states and recommendations for ways in which the state can move forward.
This book may serve as a reference guide for practitioners, students, and academic institutions that work to provide solutions to contemporary conflicts and security threats. Topics addressed include the proliferation of weapons of mass destruction, arms control, energy security, natural disasters, the changing role of the North Atlantic Treaty Organisation (NATO), health paradigms, and US environmental policy.
THE EMERGENCE OF BLOGS AS a Fifth Estate AND THEIR SECURITY IMPLICATIONS
In the past ten years, the spread of the Internet and other advanced technologies has had a dramatic effect on the way people access and perceive information. One of the most revolutionary technological novelties that characterizes the modern "digital revolution" has been the explosion of weblogs. Blogs have impacted numerous facets of international politics including elections, media reporting from zones of conflict, and corporate and congressional policies.
They also have potentially significant implications for policy making of the future and for national and global security.
This has led to the claim that blogs deserve the title of the "fifth estate," following an analogy with the other four estates that influence modern policy shaping: executive, legislative, and judicial branches of the state and the media. This book methodically analyses the various facets of the modern blogosphere that led the author to support this claim and offers a number of recommendations to further the empowerment of blogs in the global policy arena.
The Geopolitical and Geosecurity Implications of Globalization
The authors believe that national security is no longer simply national but also transnational and transcultural in its scope, and globalization has a significant role to play in the development of security and strategic agendas at all levels. The pursuit of global security is a transnational phenomenon which is heightened and potentially hindered by the globalization process.
This publication proposes an alternative new security principle, which the editor believes is central to the understanding and attainment of lasting security and peace in today's globalized world. The principle, termed"justice-based penta-security," states that "in a globalized world, security can no longer be thought of as a zero-sum game involving states alone. Global security is a pentagon of human, environmental, national, transnational, and transcultural security, and global security and the security of any one state or culture cannot, therefore, be achieved without good governance (domestic and global) that guarantees security through justice for all individuals, states, and cultures."
A Proposal for Inclusive Peace and Security
In this era of globalization, a multitude of threats impact the security of populations everywhere. These threats now increasingly transgress the traditional boundaries of states and are often non-military in nature, requiring more comprehensive and multifaceted approaches and policy responses. While every threat is unique in terms of its root causes and remedies, philosophical and conceptual methods exist that offer valuable tools for analysis and potential policy recommendations for states facing such threats.
This book presents in a novel way, eight such approaches that - when applied against any transnational threat - may help to enhance the effectiveness of states in their pursuit of long-term and durable security.
Stability of States: The Nexus Between Transnational Threats, Globalization, and Internal Resilience
In this study, the authors contend that in our globalized world the stability of any individual state (irrespective of its size and importance) plays a critical role in the stability of the entire international system. There are multiple ways to achieve state stability, whether through western-style democracies or through other forms of good and effective governance that are in keeping with local cultures and histories.
Regardless of whichever system is used, it is critical that there are certain minimal criteria of governance that are adhered to and must include human dignity, equality, and prosperity. This book contributes a timely analysis of ways to achieve and the methods required to maintain global stability and provides a valuable tool to anyone who is interested in true and lasting transnational security.
Pillars of Globalization
Globalization as a process has been effecting human civilizations since the beginning of documented history. Where this process has brought us and where it is leading our policies, our security, and our future largely depends on the decisions that states take today.
This publication also emphasizes that for globalization to benefit humanity, the three major cultures of the world (Eastern cultures, Arab-Islamic cultures, and Western cultures), along with others, have to unite and uphold the world together (represented diagrammatically on the front cover) and not separately from one another.
Three diagnostic tools provide the means for measuring the impact of globalization from a number of perspectives and outline what we can expect for the future of the international system. The proposed timeline of globalization is very comprehensive and provides unique historical insights that are not focused only on events in Western civilizations. The reader will be surprised at their relevance to today's world events and their depth.
In defining globalization, the authors provide an innovative and inclusive yet simple new definition of globalization which states that:
"Globalization is a process that encompasses the causes, course, and consequences of transnational and transcultural integration of human and non-human activities."
"Global Biosecurity ; towards a New Governance Paradigm"
In the 21st century, biosecurity has become a central part of any global policy-making agenda. With the rapid advancement of the life sciences, nanotechnology, and biotechnology comes certain challenges for the scientific community and policymakers. With the potential threat of biological weapons proliferation and bioterrorism, there is a critical need for constructing a solid global governance system that is capable of addressing the complexity and multiplicity of the topics related to various aspects of biosecurity.
This book outlines a new biosecurity governance model that is integrative, network-based, flexible, open, cross-cultural, transparent, and multi-disciplinary. The model emphasises the need to engage a wide variety of actors ranging from governments and non-profit organisations to private industry, science, and academia. This publication adds an up-to-date perspective and comprehensive guide to any personal or institutional library.